Wayne Wallace Photography is proud to announce the launch of our YouTube channel. It's been on my goal list for some time now to really start getting into producing video for myself and clients. I've put together a few videos so far and I have many more in the pipeline.
Please come subscribe and interact with me on YouTube
.
I had the pleasure of speaking to the Photography Business class today at the Art Institute of Las Vegas.
I shared with them many of the business and marketing techniques I use in my daily business to attract new clients. I recommended that if they want more information they should sign up for my photography marketing secrets newsletter at
http://www.photographymarketingsecrets.com
Wayne Wallace Photography is happy to announce that we have setup a corporate account with Las Vegas Limousines. Whether you need a ride to the studio or want to run around town doing pictures at the Las Vegas landmarks we can provide you with a fine ride!
Call Wayne Wallace today at (702) 706-7427 for the best prices!
Wayne Wallace Photography is happy to announce that we will be teach photography classes soon. Once we are settled into our new studio space we will open up the class enrollments.
Would you like to learn which camera to buy, how to use it properly or maybe how to make your photos better with photoshop?
If you're interested in hearing more about my classes, like this post and comment "Hell Ya!".
Share this post with your friends and you'll have a chance to win a FREE class!
Happy Chinese New Year! Wayne Wallace Photography is celebrating the new year of the Dragon with a brand new studio space. We have just finished the negotiations on our new studio space. We will have lots of new and exciting things coming out during the year of the Dragon!
I was recently asked to speak to the
students
at two Las Vegas
technical schools
. On July 25th, 2011 I spoke to the
Digital Media
students at the
ITT Technical Institute
. I spoke to them about career possibilities in the photography industry using the skills that they are learning. I showed them how we use tools like
Adobe Photoshop
to do digital retouch and
graphic design
work for our clients.
Have you seen one of these little squares yet?
There's a huge buzz about these things called
QR Codes
for marketing and driving people to your
website
. QR Codes are quickly becoming a very known thing. You see them everywhere you look. It's basically a fancy
bar code
that can link to your website or your contact information.
QR Codes were created by
Toyota
as a better bar code system and now they are used all over
Japan
by many business types. Read more about them at the links below
Our new photography studio policy is to watermark all web images with our QR Code. This QR Code points to our new mobile website
http://m.waynewallacephotography.com
Why are we using QR codes?
For years photographers have put traditional copyright stamps and or their logo on their web images for years now as you see at the bottom of my image above. If you think about it for a minute having a smart barcode on your image is way better than a traditional logo or copyright stamp. It's a smart barcode that points back to your website and it can be used to identify you as the
copyright owner
and creator of the image.
We will also be implementing a referral tracking system using QR Codes so our clients will be able to get referral credits for every new client they send us using their QR Coded images they share online.
I like using this QR Code reader on my
iPhone
it works great.
Equity Marketing called me to interview me about an article they were writing called
Enhance Your Social Media Presence with Professional Photography
Wayne Wallace Photography is proud to announce the partnership relationship with Mei Li Makeup. Mei Li Makeup is a Las Vegas based professional makeup artist services company. We have arranged for Mei Li Makeup to provide our clients with makeup services at a greatly discounted rate when you book a photography session. Check out their website at
http://www.meilimakeup.com
Be sure to visit the
Professional Makeup Services
page here for more information.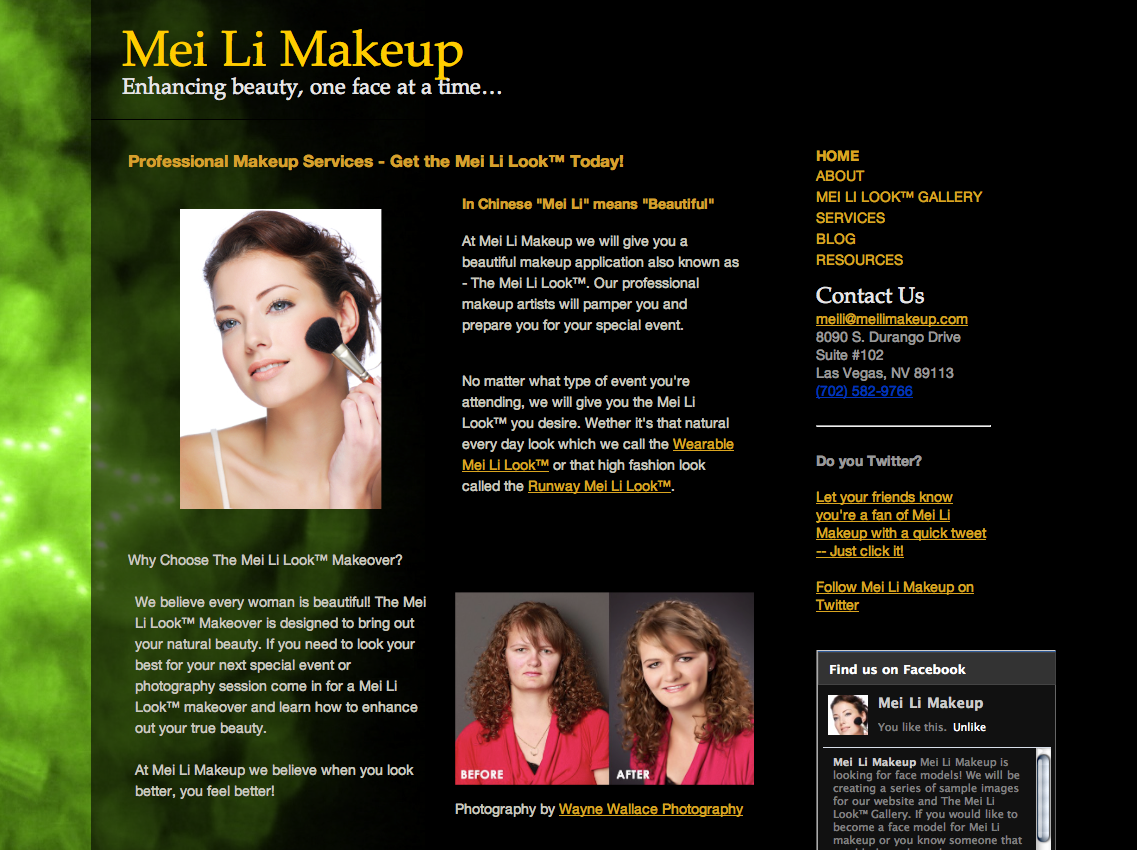 Wayne Wallace Photography is a proud member of the
Las Vegas Art Institute's
Digital Photography Program Advisory Committee. The committee which consists of several professional Las Vegas photography companies oversee and make recommendations about the course and what is being taught as well as provide intern opportunities to the students.
The Art Institute recently graduated their first Photography Program Graduate and has several more graduating very soon.