Frequently Asked Questions
Q: Do you do X kind of photography?
Yes. Wayne Wallace Photography can provide photography for any type of subject or event. No matter what your photography needs are we can handle it.
Q: How much will it all cost?
It depends on a variety of factors including locations, how many different looks you want, and what end products you purchase.
Q: Is makeup included?
No. However we do have a partnership with Mei Li Makeup. We have arranged a special discounted price when you book a photography session. Makeup will be done in the studio before your session.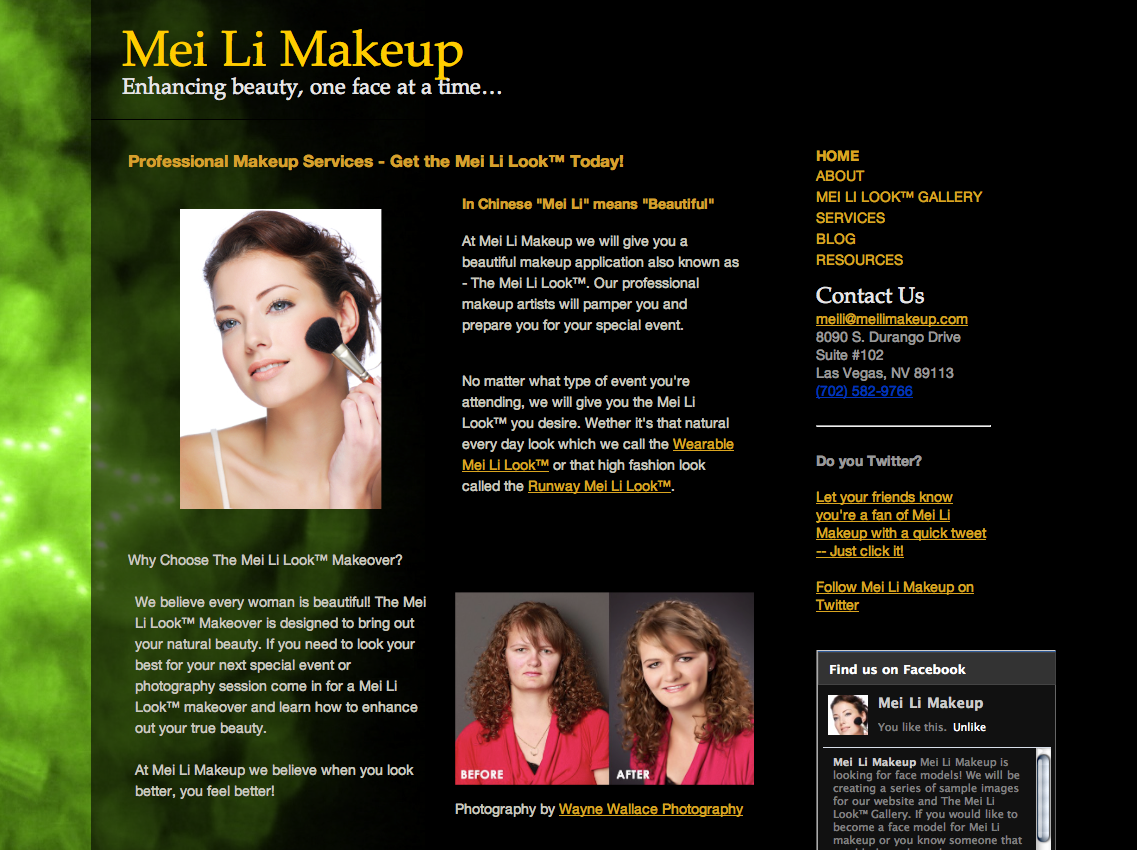 Q: Is hair included?
Q: Is hair included? No. We recommend you visit your favorite hair salon before your portrait session. If you have a stylist onsite changing your look during the session you still need to pay for photography time as well.
Q: How much time do I need to reserve for my session?
We recommend no more than 1-2 looks per hour. It takes time to change your look, move to a new location, change setups and photograph you. The more looks and or locations you want to do the more time you need to reserve. You don't want to rush things. If we don't use all the time we will credit the leftover towards products.
Q: Do you provide clothing and props?
No. We rely on you to provide your own clothing and props that are unique to your own personality and style. That being said we do have basic studio furniture, props and backdrops that go with most clothing options so you may not need anything other than your clothes. We recommend you come see what we have available before your session.
Q: What should I wear?
We usually tell people to wear what's appropriate for the image you want to create. Wear colors that complement you and your setting. Make sure your clothes are well pressed and clean. New clothes look best. It's less expensive to have your clothes pressed than have us retouch wrinkles.
Q: What if I don't like my images?
We offer a 100% Satisfaction Guarantee. If you don't like your proofs we will photograph you again for free.

You will have an opportunity to review your purchased products before printing and upon delivery to make sure they meet your expectations. We are confident you will be 100% satisfied with your images; however, if there is a problem, please let us know immediately so we can correct any problems. Due to the custom nature of our work, all product sales are final.
Q: Can I purchase products later?
We try our best to archive and keep all your images safe, but we cannot guarantee your images will be available a year from now. You can purchase an archive CD/DVD if you choose to archive the digital images yourself.
Q: Will my images appear on the web or in advertising?
Wayne Wallace Photography uses the web and print for advertising. As a part of being photographed by Wayne Wallace Photography your image may appear on websites and or print advertising. We do require you to sign a model release before being photographed. If you don't want your images published please state that prior to the photography session.
Q: Do you sell the rights and or digital files?
Copyright and ownership always remains in the name of Wayne Wallace Photography based on copyright law, however when you purchase high resolution digital images we do give you the right to reproduce those images.
Q: How far in advance do I need to book my session?
We recommend at least 1-2 weeks or more. Our schedule changes by the day so advance booking is recommended. If you have a special date such as a wedding or event you need to book that as far in advance as possible. Session fees are paid in advance.
Q: Do you provide transportation?
No. You must provide your own transportation.
Q: Is the session fee refundable?
Yes, if you cancel your session within 48 hours of the scheduled time. After the session itself the session fee is not refundable, but we will photograph you again if for some reason you don't like your images.
Q: Do you do in person consultations?
Yes, we recommend you come into the studio for a consultation so you can see all the background options we have and discuss your needs and ideas in person. It always results in a better image.
Q: How do I see my images?
After your session you can see your proofs in our state of the art hi-definition viewing theater. During the viewing session you will be able to choose your favorite images and order from the many products we have available in the studio. If you prefer to view your proofs online we provide that option too.
Q: Do you provide a CD of the images?
Yes, you can purchase a Master Archive CD or DVD with all the digital files. We provide digital file sizes for all budgets.
Q: Can I reproduce your photographs?
Yes, if you purchase hi resolution digital files we will give you a release which gives you the right to reproduce the digital files.
Q: Why do you own the images?
Even though the images are of you, as the creator we own the images as stated by USA copyright law. You are not allowed to copy, modify, or reproduce my images without written permission.
Q: Do you travel to other cities and countries?
Yes, We will gladly travel to other locations to photograph you or your products, but there are additional fees. Please contact the studio to discuss pricing.
Listed below are links to blogs that reference this entry:
Frequently Asked Questions
. TrackBack URL for this entry:
http://waynewallacephotography.com/darkroom/mt/mt-tb.cgi/304